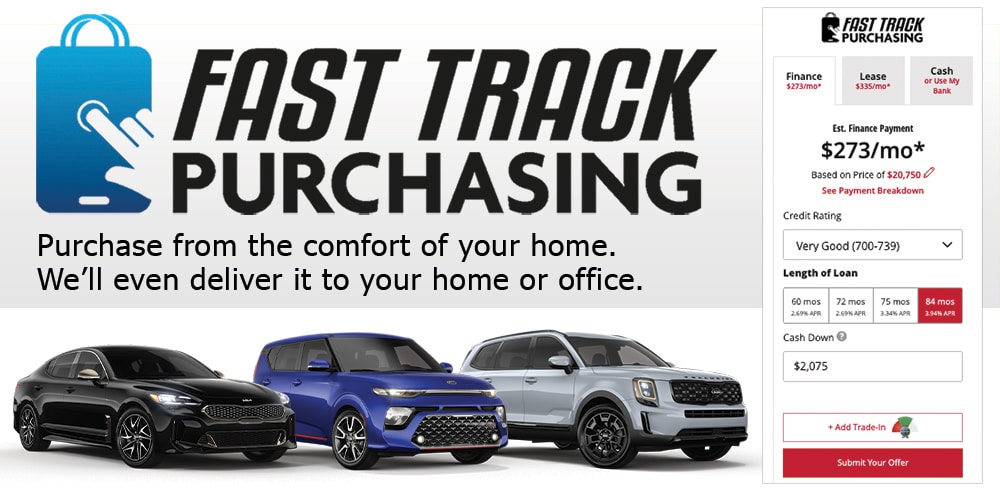 STEP 1: Choose Your Vehicle at Jenkins Kia of Gainesville, FL
One of the perks of shopping at Jenkins Kia of Gainesville is that you have an incredible selection of new and used vehicles from which to choose, allowing you to avoid feeling limited when looking for the car you want. To get started, select whether you're searching for a new or used vehicle. Once you choose the car category that you're looking for, start browsing through our inventory and find the car that has all of the features you need.
STEP 2: Calculate Your Payment at Jenkins Kia of Gainesville, FL
Once you find a car that's perfect for your Gainesville, FL commute, work out a payment plan that fits your budget. You can do this online with one of our finance specialists in real-time with our virtual chat space. Or, you can use our handy payment calculator tool online, which just requires some basic information.
STEP 3: Value Your Trade-In at Jenkins Kia of Gainesville, FL
Before you go ahead and sign off on a new or used car from our inventory, see what your current vehicle is worth when you value your trade at Jenkins Kia of Gainesville. When you use our trade-in value estimator, you'll be using data pulled straight from the market in real-time, so you can get an accurate number of what your vehicle is worth. This will allow you to get more money from your trade-in with us towards your new purchase.
STEP 4: Apply for Financing at Jenkins Kia of Gainesville, FL
Apply for financing with us to get quickly pre-approved for your next purchase. We've built a long relationship with several lenders in the area, so we're able to confidently fight for rates that will be hard to get anywhere else. Once you have your financing plan sorted out, all that's left to do is submit your offer. Then, we'll handle the rest of the process.
STEP 5: Submit Your Offer
The window to negotiate a deal on your next vehicle is open now. We want all of our customers to take advantage of the convenience of the Fast Track Purchasing program to eliminate the many headaches and long waits that can come from being at the dealership. It's an incredibly streamlined process that works out well for both our customers and us, and we're confident that you'll be satisfied with the deal you drive away with.
Why Shop at Jenkins Kia of Gainesville?
When you buy a new car from us, you'll get plenty of great perks like nitrogen-filled tires, discounts on window tints, and more. If you decide to buy a used model, you can rest assured that all of our used models are thoroughly inspected and tuned so that they're ready to hit the road. See why we're one of the leading dealerships in the area when you visit us today.
Fast Track With Jenkins Kia of Gainesville
Contact us to learn more about our fast-track purchasing system at Jenkins Kia of Gainesville, and visit us in Gainesville, FL for all your car-buying needs.